Avengers: Infinity War 2D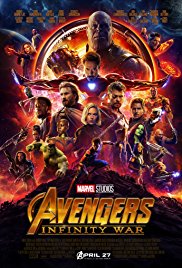 Rated: PG-13 for intense sequences of sci-fi violence and action throughout, language and some crude references.
Running Time: 156 minutes
We will be showing a 1:30 matinee on Memorial Day, Monday, May 28.
Cast:  Robert Downey Jr, Chris Evans, Chris Hemsworth, Scarlett Johansson, Jeremy Renner, Mark Ruffalo, Benedict Cumberbatch, Chris Pratt, Elizabeth Olsen, Zoe Saldana, Karen Gillan, Tom Holland, Tom Hiddleston, Josh Brolin, Chadwick Boseman, Bradley Cooper, Sebastian Stan, Dave Bautista, Vin Diesel, Paul Rudd, Paul Bettany, Anthony Mackie, Don Cheadle, Benedict Wong
Dirctor:  Anthony Russo, Joe Russo
Screenplay:  Christopher Markus, Stephen McFeely
An unprecedented cinematic journey ten years in the making and spanning the entire Marvel Cinematic Universe, Marvel Studios' Avengers: Infinity War brings to the screen the ultimate, deadliest showdown of all time. The Avengers and their Super Hero allies must be willing to sacrifice all in an attempt to defeat the powerful Thanos before his blitz of devastation and ruin puts an end to the universe.
Powered by BDH Technology