Star Wars The Last Jedi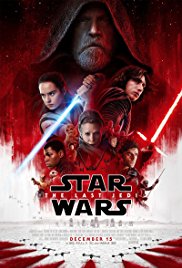 Rated: PG-13 for sequences of sci-fi action and violence
Running Time: 152 min.
Cast:  Mark Hamill, Carrie Fisher, Adam Driver, Daisy Ridley, Warwick Davis, Laura Dern, Andy Serkis, Oscar Isaac, Lupita Nyong'o, Benicio Del Toro, Domhnall Gleeson, John Boyega, Gwendoline Christie
Director:  Rian Johnson
Screenplay:  Rian Johnson
In Lucasfilm's Star Wars: The Last Jedi, the Skywalker saga continues as the heroes of The Force Awakens join the galactic legends in an epic adventure that unlocks age-old mysteries of the Force and shocking revelations of the past. Star Wars: The Last Jedi opens in U.S. theaters on December 15, 2017.
Powered by BDH Technology