Abominable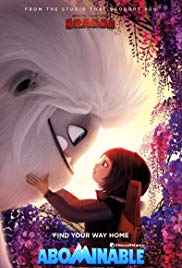 Rated: PG for some action and mild rude humor
Running Time: 97 min.
Cast:  Chloe Bennet, Claudia Kim, Tenzing Norgay Trainor, Albert Tsai, Eddie Izzard, Sarah Paulson
Director:  Todd Wilderman, Jill Culton
Screenplay:  William Davies
Everest takes audiences on a 3,000-mile journey from the exotic streets of Shanghai to the breathtaking Himalayan snowscapes. When a group of misfits encounter a young Yeti named Everest, they embark upon an epic quest to reunite the magical creature with his family at the highest point on Earth. Directed by Tim Johnson (Home, Over the Hedge) and co-directed by Todd Wilderman (Open Season 2), the animated comedy-adventure is written by William Davies (How to Train Your Dragon, Puss in Boots) and produced by Suzanne Buirgy (Home, Kung Fu Panda 2).
Powered by BDH Technology