Frozen 2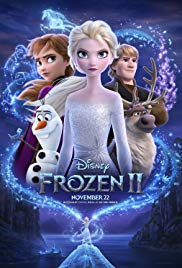 Rated: PG for action/peril and some thematic elements
Running Time: 104 min.
Cast:  Kristen Bell, Idina Menzel, Josh Gad, Jonathan Groff, Evan Rachel Wood, Sterling K. Brown
Director:  Jennifer Lee, Chris Buck
Screenplay:  Allison Schroeder
From the Academy Award®-winning team—directors Jennifer Lee and Chris Buck, and producer Peter Del Vecho—and featuring the voices of Idina Menzel, Kristen Bell, Jonathan Groff and Josh Gad, and the music of Oscar®-winning songwriters Kristen Anderson-Lopez and Robert Lopez.
Closed Dec. 24th & 25th.  Merry Christmas!  See you back at the theater on Dec. 27th for the second week of Frozen 2!
Powered by BDH Technology