Men In Black: International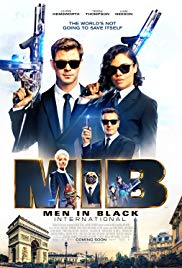 Rated: PG-13 for sci-fi action, some language and suggestive material
Running Time: 115 min.
Cast:  Chris Hemsworth, Tessa Thompson, Rebecca Ferguson, Kumail Nanjiani, Rafe Spall, Emma Thompson, Liam Neeson
Director:  F. Gary Gray
Screenplay:  Art Marcum, Matt Hollow
The Men in Black have always protected the Earth from the scum of the universe.  In this new adventure, they tackle their biggest, most global threat to date: a mole in the Men in Black organization.
Powered by BDH Technology