Now Showing
Make sure to check out the movie schedule page for all of the  upcoming movies!
We still have some Bumblebee collectors' popcorn tins available!  Get it as a large popcorn, $10, or a large combo, $15.
Bring someone special to our Valentines Day movie, "Casablanca."   Thursday, February 14 at 7:30 pm.  $10 for 2 admissions and a medium combo.
***Movies subject to change without notice.***
Showtimes: Friday through Wednesday evenings at 7:30 pm
Matinees: Saturday at 3:15 Sunday at 1:30 General Admission $3.00 3D Admission: $4.00
The Gladbrook Theater is closed on Thursdays. Closed for Easter Sunday matinee, open for evening show. Closed on Dec. 24 & 25.
** Do lunch or dinner before or after the movies here in Gladbrook at Spanky's, open Tuesday thru Saturday 10-10.
Coming Soon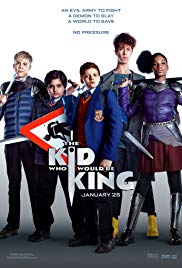 Synopsis
February 22 - February 27
The Kid Who Would Be King
Powered by BDH Technology