Now Showing
 Movies will show Friday, Saturday, & Sunday evenings at 7:00 pm.  Matinees will show on Saturday and Sunday at 2:00 pm.  
Masks are suggested not required. 
We have markings in the lobby so that you can maintain social distancing while purchasing your tickets and ordering your concessions.  Hand sanitizer is available in several locations in the lobby when needed.  
We have rows of seats marked off in the theater for social distancing.  If you sit in a row with others that are not part of your group please leave seats between you and the other group.
Let's keep everyone safe by following the rules so everyone can have a great big screen movie experience!  Thank you
***Movies subject to change without notice.***
Showtimes: Friday, Saturday & Sunday evenings at 7PM
Matinees: Saturday & Sunday at 2PM
Ticket Pricing: General Admission $3.00 3D Admission: $4.00
The Gladbrook Theater is closed on Thursdays. Closed for Easter Sunday matinee, open for evening show. Closed on Dec. 24 & 25.
Coming Soon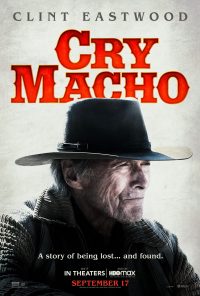 Synopsis
October 29 - October 31
Cry Macho
Powered by BDH Technology