Gift Certificates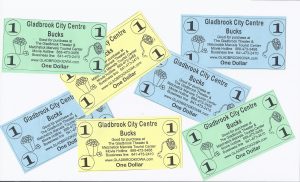 Our gift certificates are in increments of $1.00 called City Centre Bucks. They are good for admission to the movie, concessions, and admission to Matchstick Marvels.
To purchase the gift certificates stop in during the open hours of the theater or mail a check to:
Gladbrook Theater
PO Box 266
Gladbrook, IA 50635
We also have copies of the Gladbrook Corn Carnival Cookbook on hand for $15.00.
Gladbrook Mustard is available for $4.50.
In Matchstick Marvels we have model posters, magnets, trading cards of models #1-5, coasters, handbook, postcards, and DVDs.
Powered by BDH Technology